Kim Kardashian is a pretty big deal in Hollywood, much like her multi-million-dollar brands… and her love for microwaved M&Ms. The Kardashian clan is known for their bizarre antics that have made their reality television show so popular.
Remember the episode on Keeping Up With The Kardashians where Kim lost her diamond earring in the ocean; or the one where she spent a significant chunk of cash for a mysterious-looking sink that didn't have a bowl?
While there are certain quirks about Kim Kardashian that grind our gears, the reality television star herself has some strange pet peeves that she simply cannot stand.
If there's one thing we know about Kim for certain, it's her love for salads and coffee. The makeup mogul has been snapped on several occasions while leaving a cafe with a cup of hot coffee in her hand, but one thing she can't stand about takeaway paper cups is the cardboard sleeves.
Her favorite coffee shop is Starbucks which is known for its over-the-top caffeinated beverages, with whipped cream and other crazy toppings. Kim's favorite drink isn't any different. The mum-of-four doesn't drink coffee every day, but when she does, her favorite pick is white chocolate mocha with whipped cream.
That's not exactly something a woman like Kim, who's so conscious about her figure, would pick. But it turns out that she indulges in her guilty pleasures from time to time for a more balanced lifestyle. But even she knows that a cup of white chocolate mocha has around 450 calories which is why she will only have 2 or 3 sips of it and throw the rest away.
But while talking about her love for coffee on her website, Kim wrote that she hates nothing more than cardboard sleeves around her paper cup, especially because of the squeaking sound they make when they are slipped on or off. She has so much contempt for the sound that she can't stand being in the same room when someone is putting the sleeve on. She feels the same way with nails against a chalkboard.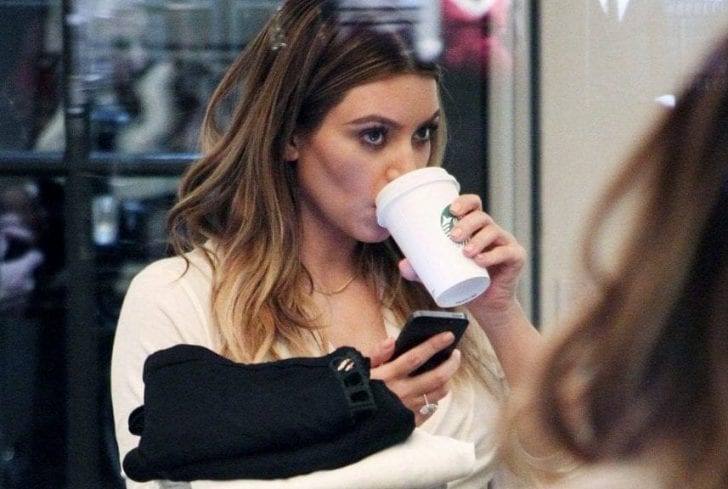 But cardboard sleeves are not her only pet peeve. Kim discovered another phobia while she was married to Kris Humphries which is even more bizarre. Apparently, the reality television star has an extreme aversion to toothpaste residual in the bathroom sink and was seen having many arguments over it with her ex-husband.